Wagram High School
Wagram, North Carolina
ANNOUNCEMENTS
•

James "Jim" Leslie Weese

James "Jim" Leslie Weese

Mt. Airy—James "Jim" Leslie Weese, 81, from Mt. Airy, NC, began his heavenly journey on Wednesday, October 13, 2021. Jim was born in West Virginia, graduated from Wagram High School in Wagram, NC and spent over 30 years as a mail carrier in the Fayetteville area. Jim's great love was wandering through the hills of WV, spending the night at Hawk's Nest State Park or one of his favorite cabins at Babcock State Park in WV. He loved Cass Railroad and sitting on the porch at Cousin Patty's.

Jim leaves many to cherish his memory: his spouse, Florence Evelyn Weese; his sister, Virginia Weese Chason (Larry); his daughters Sue Ellen Wadkinson (Bill), Sharon Leslie Ellis (Marty), Pamela Lynn Cox (Andrew), Tamara Darlene Fleming (Jon); grandsons Jeremy Ellis, Jordan Cox, Ben Fleming, Zac Fleming; granddaughters Brittany Wadkinson, Catherine Williamson; one great-granddaughter Malena Yates and a host of cousins in WV.

A celebration of life service will be held on Monday, October 18, 2021 at the Weese Family Cemetery in Lost Run, WV at 11 a.m., officiated by Larry Chason.

•

Two pictures from the 2019 WHS Reunion. The first is the Class of '58 and the second is John Memory performing an original whistling composition.

Please add your 2019 reunion pictures to the gallery. To view all pictures, click on the link below.

•

Class of '67 in 2017

View the Picture Gallery for the 2017 Class of '67 50th Reunion and other previous school reunions by clicking on the link below.

Check them out!
Welcome to the Wagram High School website.
Alumni and friends can use this site to reunite with classmates and keep informed of events and class reunions. Class list will be added as they become available. If your name is not listed and you want to be included, use the "Contact Us" icon to submit your request to the website administrator and the list will be updated.
_________________________________________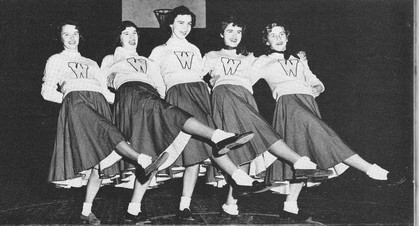 1956
_______________________________________