Wagram High School
Wagram, North Carolina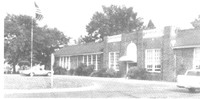 ANNOUNCEMENTS
•

WAGRAM — Duncan Leach McKay, 85, of Wagram, joined the Church Triumphant on Saturday, November

24 th , 2018 at Quail Haven. Visitation will be from 6:00-8:00 p.m. Friday, November 30 th , 2018 at McDougald Funeral Home.

The funeral service will be at 11:00 a.m. Saturday, December 1 st , 2018 at Montpelier Presbyterian Church in Wagram, officiated by Rev. John Baker and Rev. Howard Whitehurst. A private family burial will follow at the McGill-McKay Cemetery.

Duncan Leach McKay, a lifelong resident of Wagram, North Carolina, was born on November 13th , 1933 to John Leach McKay and Gertrude McGuire McKay. Duncan, or "Dunc", as he was known to friends and family was an active member of the Wagram and Scotland County community. He was a lifelong member of Montpelier Presbyterian Church where he served as a Deacon and Elder. He had served as a Wagram town commissioner. He was a founding member of the Scotland County Parks and Recreation commission, where during the 1970's the idea of a Lumber River Canoe Trail was developed.

He later was a founding member of the Lumber River Conservancy. He also was a member of the Laurinburg Kiwanis Club as well as the Wagram Post of the American Legion. Duncan touched many lives; whether through the family farm, his time as the rural letter carrier for Wagram, or church and civic activities, he was known for a warm smile, a helping hand, and a quick joke.

He is survived by his sons, Jeffrey Leach McKay and wife Leigh-Ann of Winston-Salem, North Carolina, Neill Duncan McKay and wife Rhonda of Fairbanks, Alaska; grandchildren, Mollie McKay of Charleston, South Carolina, Emily McKay of Bozeman, Montana, Andrew McKay and Nathan McKay of Fairbanks, Alaska; and a host of nieces and nephews that he loved like his own. He is preceded in death by his wife of 57 years Dorothy Johnston McKay in August of this year; his siblings Peggy McKay Nelson and John Archibald McKay II.

In lieu of flowers, the family suggests donations can be made in Duncan's name to Montpelier Presbyterian Church, 24080 Main Street, Wagram, NC 28396 or the Lumber River Conservancy,PO Box 1235, Pembroke, NC 28372.

•

Now Available From Amazon and Barnes and Noble

"Mysteriously Missing College Courses"

By John M. Memory, PhD, JD

Published By Archway Publishing

More than anything else, this is a self-help book. The 36 chapters include 17 chapters about health, 9 about other aspects of self-help, and others on subjects such as futurology, origins of religion, writing, high-risk activities and decision making, and science. The electronic editions from Amazon ($5.99) and Barnes and Noble ($5.49) can make an easy, inexpensive, and (John hopes) excellent Christmas or birthday present.

•

Just a reminder that the next WHS School Reunion is being planned for June 2019 so start planning now to attend. As of now, no firm date, times or menus have been established. It may be a year away but time passes fast. Firm details will be provided early next year.

If you have any suggestions or feedback regarding location or food please fill out the survey below.

Hope to see you in 2019.


You must be logged in to submit this survey. Please use the login box in the upper right corner.



| | |
| --- | --- |
| 1) | Do You have a preferred date? |

| | |
| --- | --- |
| 2) | Do you have a preferred Time of Day? |

| | |
| --- | --- |
| 3) | Do you have a preferred Location? |

| | |
| --- | --- |
| 4) | What type of food would you prefer (i.e. finger food, Hors d'oeuvres, Bar B Que, other)? |

•

Class of '67 in 2017

The Picture Gallery for the 2017 Special Reunion is now available for you to upload your pictures. Click on "WHS Photo Gallery" in the column on the left side of this page (or click on the link below) then click on the "Class of 67 Reunion 2017" gallery. You can view the pictures already there or use the "Add/Edit" prompt at the bottom of the page to upload your own pictures from your computer, mobile phone or tablet.

Thanks to all of you who attended the reunion and to those who were involved in the planning and execution. It was a great success. For those who did not attend, we hope to see you next time.

Also, thanks to everyone who participated in the 50/50 Raffle to help support the WHS website. Nancy Gainey Ellis was the prize winner.
Welcome to the Wagram High School website.
Alumni and friends can use this site to reunite with classmates and keep informed of events and class reunions. Class list will be added as they become available. If your name is not listed and you want to be included, use the "Contact Us" icon to submit your request to the website administrator and the list will be updated.
_________________________________________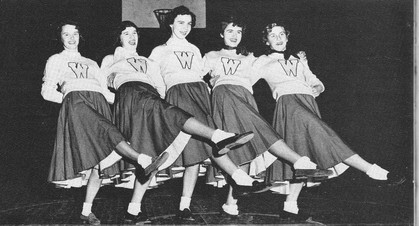 1956
_______________________________________